BRAKE TECHNOLOGY
Radi-CAL CALIPERS
Derived from AP Racing's patented and widely successful race Radi-CAL caliper and after 7 years of development, AP Racing has released their new pressure forged aluminum Radi-CAL caliper line validated for high performance road use and weekend track use. Using the latest FEA (finite element) analysis software and brake dynamometer testing, it was designed to implement the latest technologies learned through 40+ years of highly successful motorsports participation and an unparalleled 700+ F1 Grand Prix victories.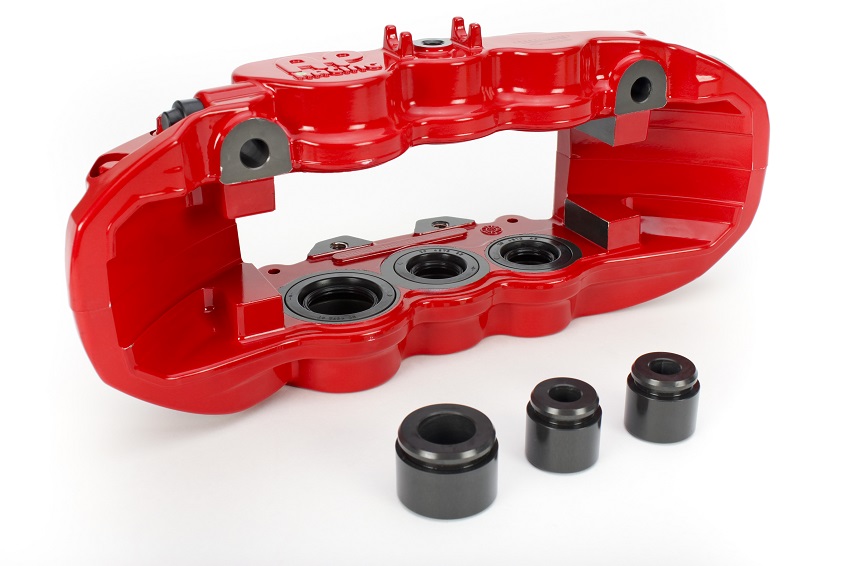 THE FORGED ALUMINUM PROCESS WAS CHOSEN AS IT OFFERS A 20% STRONGER AND LIGHTER CALIPER THAN SIMILARLY SIZED UNITS USING A CASTING PROCESS.
AP Racing pressure forged aluminum caliper bodies are tested at over 500,000 cycles of pressure and torque to meet AP Racing's stringent OE and high performance road use validation testing to ensure maximum stiffness and durability required for use on road registered vehicles. The forged aluminum process was chosen as it offers a 20% stronger and lighter caliper than similarly sized units using a casting process. These larger, lightweight AP Racing calipers replace the typical heavy cast iron OE calipers that are designed for low cost and little regard to high performance driving.
The opposed piston design guarantees maximum stiffness for better pedal feel and immediate braking action from the drivers input. Four piston and six piston designs allow a larger pad area to be used which decreases heat at the friction point between the pad material and disc surface while maintaining the same brake torque. This single detail increases both rotor and pad service life. Additionally, a larger caliper aids in braking performance by acting as a more efficient lever on the rotor. This in turn applies more torque to the rotor thus increasing the force applied to the rotor.
By controlling the operating temperature caused by the friction between the pads and rotor we are able to better manage the performance of the big brake kit. Controlling the temperature in a braking system is one of the biggest goals when designing a kit. A vehicle will create the same amount of heat when stopped from the same speed, the brake component choices will control how that heat is managed. Both pads and rotors have optimum operational temperature ranges. For a street car, we must make sure the brakes work flawlessly at sub-zero temperatures but still offer excellent performance when being pushed on a race track and being subjected to extreme temperatures. All calipers are double sealed to protect piston bores and pressure seals from road debris. High temperature seal material is used to ensure safety at high temperature use. These seals are designed to minimize off brake pad drag on the disc which will increase pad and disc life.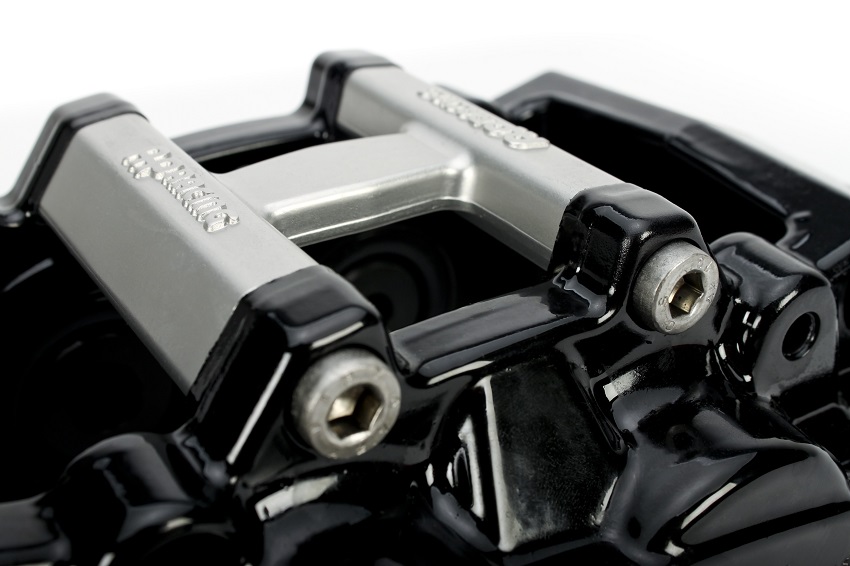 AN EASILY REMOVABLE FORGED BRIDGE SUPPORT IS IMPLEMENTED FOR QUICK PAD CHANGES WITHOUT REMOVING THE CALIPER
The Radi-CAL caliper is designed with differential piston sizing that minimize pad taper by equalizing piston pressure to the pad backing plate. The caliper pistons are hard anodized aluminum, lightweight and the most efficient material for insulating brake fluid from heat. An easily removable forged bridge support is implemented for quick pad changes without removing the caliper and adds additional strength to the caliper mouth for greater stiffness.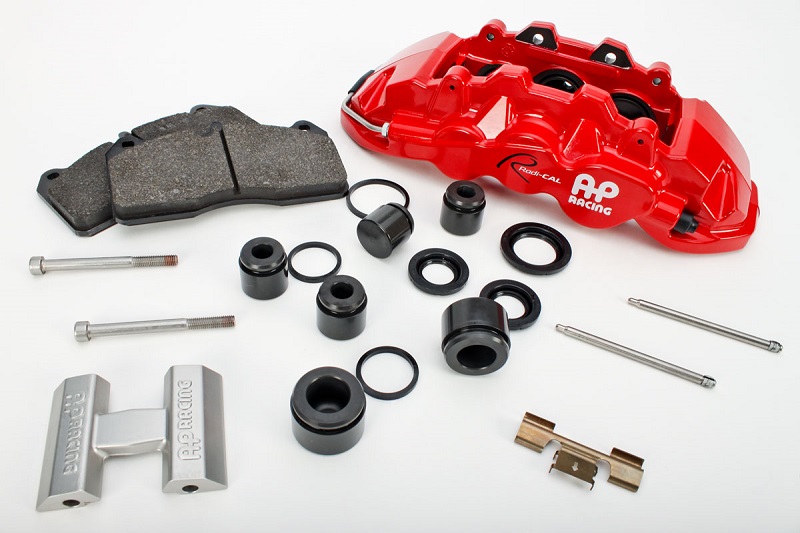 Radi-CAL calipers are designed for larger, wider and taller annulus discs to increase thermal capacity, reduce disc surface temperatures and increase pad and disc life. Directionally loaded anti-rattle springs are featured to avoid pad knock or movement that is normally associated with race calipers. Radi-CAL calipers are hard anodized and then painted with high temperature paint for great looks and corrosion protection.